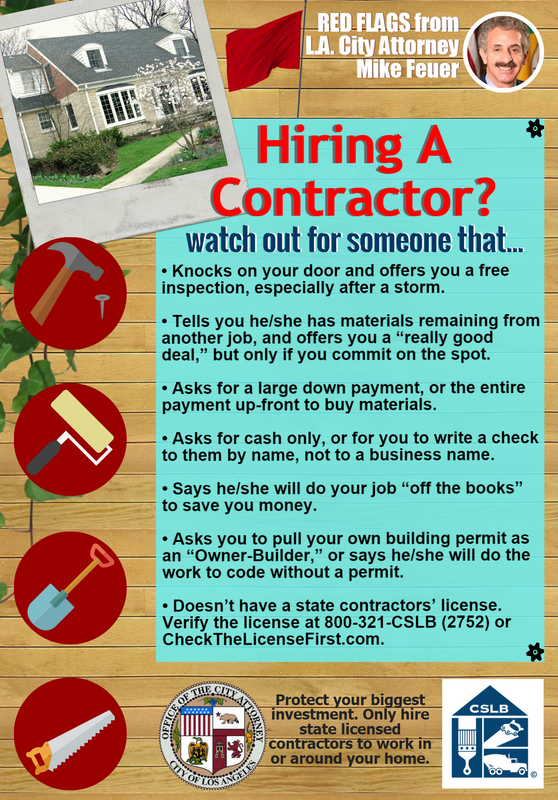 FRAUD ALERT: Unlicensed Contractors for Home and Yard
from the Office of the L.A. City Attorney Mike Feuer
Today our office launched a new public awareness campaign to alert homeowners about fraud being perpetrated by unlicensed contractors. If you are having any work done on your house or in your yard, make sure the contractor you're using is licensed by the CA. Contractors State License Board. Go to www.cslb.ca.gov and instantly check their license.
Unlicensed contractors are victimizing homeowners throughout LA – devastating them financially, doing shoddy unsafe work, not finishing projects and taking terrible advantage of seniors too. A new scam involves unlicensed landscapers installing drought tolerant landscaping with plants that aren't even drought friendly and charging thousands more than they are allowed to. Landscapers that charge more than $500 for a project must be licensed.
This fraud is pervasive. In the past year, we have filed 32 cases of unlicensed contractor fraud and are currently collecting restitution on 39 unlicensed contractor cases. Just this week we've filed 5 criminal charges against unlicensed contractors too. And there are many charges in the pipeline, unfortunately.
You can read about our efforts to protect homeowners from unlicensed contractors here: http://bit.ly/1Ii5ziE And attached is list of red flags to look out for when hiring a contractor.
Please share this information with neighbors, homeowners' associations, neighborhood watches and neighborhood councils. Unlicensed contractors talk a very good game and are great at taking people's money. But really the only thing they're good at is fraud.