OUR NEW WEBSITE IS UNDER CONSTRUCTION.  WE WILL BE BACK SOON WITH OUR NEW AWESOME AND ENGAGING WEBSITE.  IT IS COMING IN AUGUST 2019 STAY TUNED!
---
Meetings & Events
---
7/30/19 San Pedro, CA – Central San Pedro Neighborhood Council introduces Poetry Corners this Thursday. This temporary pilot program features poetry written by local and nationally recognized poets on city street corners in downtown San Pedro at the intersections of 6th & Mesa and 7th & Mesa.
The San Pedro Waterfront Arts District will lead a First Thursday ArtWalk Tour including a stop at the freshly installed Poetry Corners at Sixth and Seventh at Mesa. Eight poems will be temporarily printed on the sidewalks; two are by famous authors, six by local literati, and will be read aloud by 2 actors from Little Fish Theatre and one voice actor from Scary Stories. ArtWalk Tour Doyen, Pat Carroll will lead us on to the reveal of this amazing community mural.
ArtWalk Tour meets on First Thursday, August 1st at 6:30 PM at 390 W. 7th Street, San Pedro, CA 90731.
---
6-19-19:  Mayor announces new plan to deploy new sanitation teams, deliver services to homeless encampments. 
Read more here.
6-11-19: Message from the Mayor on Homelessness in Los Angeles: Rising to the challenge
Read his message here.
---
HIRE LA'S YOUTH.  Details here.
---
---
---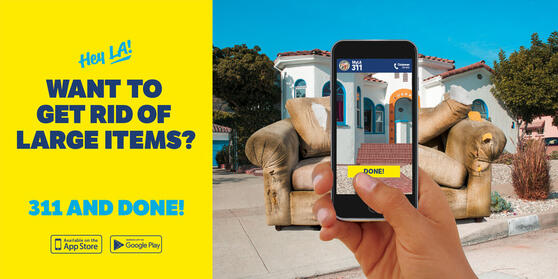 ---

VIEW CITY OF LA CONTROLLER'S DATA PANELS.